Aside from Puerto Galera "the heart of Asia" the province of Oriental Mindoro (my hometown) has many more magnificent places to offer. Most of the unspoiled island and pristine white beaches are located in the southern part of the province, the town of Bulalacao. I regret why I visited other places first before my hometown (so sad but, we can't go back to the past so let's move on). I decided to explore the islands of Bulalacao last April 2018 together with my cousin. I am so astonish that every island has its own unique beauty that makes you never want to leave and stay forever (e walang poreber kaya uuwi at uuwi ka talaga). One of this island is called target island I don't know where they got the named but it's so attractive and yes! it's one of my favorite islands. Why not? This is the true definition of paradise.
From town proper of Bulalacao you can book a motorized banca for island hopping approximately one hour travel boat ride going to the islands. Going there is a bit difficult due to rough sea, the big waves is normal even if the weather is good but there's no need to worry all boats has lifejackets and the boatmen are properly trained. Best time to go is during summer (March-May).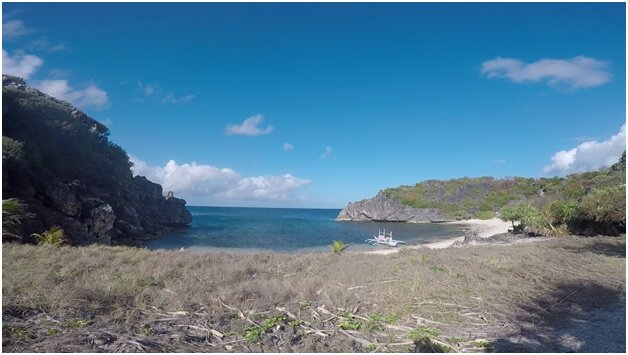 One of the best view here in target island is the house above the rocks. Imagine?! A house above the rocks?? Just wow! I wondered how long they had to done this. Sorry to tell you but going inside the house is prohibited. ?
The waves say it all. Perfect for proposal and pre-nuptial. How about honeymoon? Oh, it's a no no!
Ocean breeze, salty hair and sun-kissed hair. SUMMER NEVER ENDS ?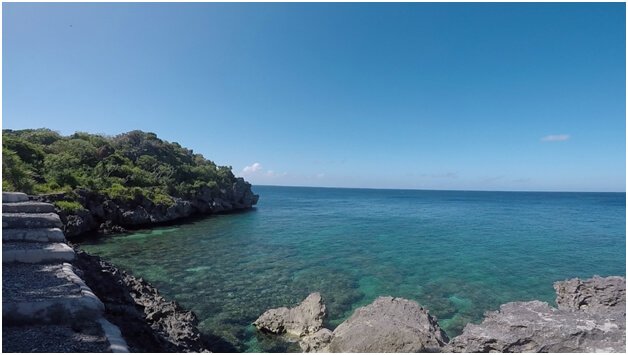 The mini Palawan spots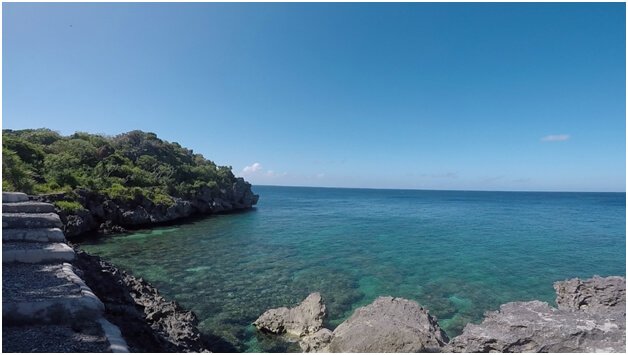 Dreaming of Palawan but no budget? Target island got your back buddy! ? Look at that very clear water that almost can see your soul! Kidding aside. This one is located in the very edge of the island.
Underwater photography
When we went here there's no much people so, we enjoyed the island so much. It felt like we rented the whole place. There's no need to worry about the photobomber because the place is all yours and take note you don't need to filtered your photos! Come and see for yourself. We stayed here for almost an hour before going to another islands. When I saw the beauty of this island it makes me proud because we have this kind of hidden gem in my hometown.
HOW TO GET HERE:
By land/sea (8-9hours travel time)
From Manila, take any bus going to Batangas Pier
Board a ship going to Calapan Or. Mdo
From Calapan ride a bus/van going straight to Roxas (tell the driver to drop you off in Bulalacao terminal)
Ride a van to Bulalacao town proper
Via air (2hours travel time)
Take a domestic flight to San Jose, Occidental Mindoro
Ride a bus or van going to Bulalacao town proper
SUGGESTION:
Book a motorize banca ahead of time so you won't get any problem upon arriving in Bulalacao town proper. I highly recommend Kuya Kano 09483460772, just contact him to know the price. He is one of the best tour guide.
WHERE TO STAY:
There's a lot of hotel you can stay in Bulalacao like South Drive Beach Resort and By the sea hotel just search their number for bookings/inquiries.
WHAT TO BRING:
FOOD/WATER – there is no available restaurant in Target island.
SUN BLOCK – no cottage in the area
A gently reminder "take nothing but pictures leave nothing but footprints kill nothing but time"