Itinerary 11:00 AM – 11:30 AM : Petron Station Calapan City 11:30 AM – 12 PM : CALAPAN CITY HALL AND MUSEUM 12:00 PM – 12: 30 PM : MANGYAN HERITAGE CENTER 12:30 PM – 1:00 PM : CALAPAN CITY PLAZA and CALAPAN RECREATIONAL AND ZOOLOGICAL PARK 1:30 PM – 2:00 PM : SILONAY MANGROVE CONSERVATION AREA AND ECOTOURISM
CALAPAN CITY HALL AND MUSEUM
Address:
Brgy. Guinobatan, Calapan City, Oriental Mindoro, Philippines
Hours:
Weekdays, 8am – 5pm. It takes about 20mins to tour.
Budget:
Free
Description:
The Calapan City Hall and Museum is known for its one-room museum which are divided into three sections. There are three sections in the museum. First is the Visuals of the Town section that displays old photographs of the town's previous mayors since 1901. Second is The Faces from the Past section that exhibits various Philippine stamps and the memorabilia of historic figures in Calapan. Lastly, is the Birth of a New City section displays old banknotes and coins from the American and Japanese occupation. Most notable in the museum is the remains of a Tamaraw, the endemic dwarfed buffalo of Mindoro Island. The tamaraw's remains were ossified and turned into a statue, greeting visitors at the entrance.
MANGYAN HERITAGE CENTER
Address:
Bishop Finneman Cmpd., Brgy. Calero, Calapan City, Oriental Mindoro, Philippines
Hours:
Weekdays, 8am – 5pm. It takes about 20mins to visit.
Budget:
Library Fee: P10/student; P25/post-graduate students; P50/foreign researchers.
Description:
Mangyan Heritage Center comprises a souvenir shop and a small library dedicated to Mindoro Island's aborigines, the Mangyans. The library catalogues more than 2,000 documents about the life and culture of Mangyans. Research materials include books, theses, and articles from magazines, and local and international newspapers. Several documents in the library come from anthropologists such as Harold Conklin of the United States of America, Dr. Masaru Miyamoto and Yasushi Kikuchi of Japan, and Antoon Postma of Netherlands. The last is hailed as a Mangyan expert, having worked and lived among the Mangyans since 1965. Meanwhile, the souvenir shop sells items created by the Mangyans themselves. Some of the items include woven baskets, beaded bracelets, pen holders, kitchen utensils, wooden musical instruments, and handbooks on Mangyan culture.
CALAPAN CITY PLAZA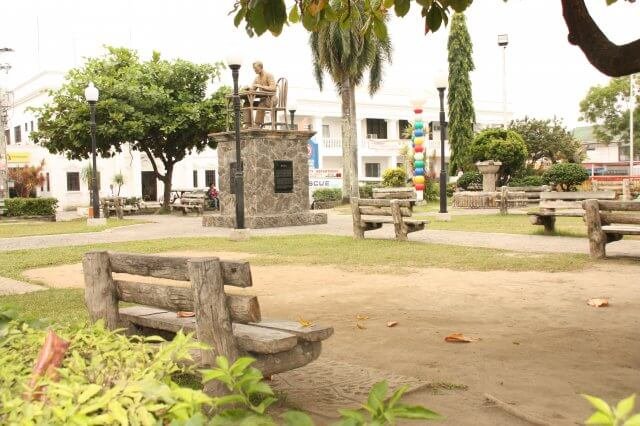 Address:
Brgy.Ibaba East, Calapan City, Oriental Mindoro, Philippines
Hours:
Everyday, open 24 hours.
Budget:
Free
Description:
Calapan City Plaza serves as a rotunda, in the middle of which lies a cemented gazebo. The gazebo is wrapped with a spiral staircase, leading to its rooftop. At the rooftop you'll find statues of a Mangyan next to a tamaraw, a dwarf buffalo endemic to Mindoro. The Mangyans are the indigenous people of Mindoro Island. Also found in this plaza are a relief sculpture of Mindoro and a monument of Dr. Jose Rizal, the National Hero. At the outskirts of the plaza, vendors sell refreshments and snacks. The plaza is located across Calapan's old City Hall, and next to the oldest Catholic educational institution in Mindoro, the Holy Infant Academy.
SILONAY MANGROVE CONSERVATION AREA AND ECOTOURISM
Address:
Sitio Singalong, Brgy. Silonay, Calapan City, Oriental Mindoro, Philippines
Hours:
Everyday, 6am – 6pm.Takes at least 1.5hrs to tour and kayak.
Budget:
P25/head
Contact No
: 0929 105 8746
Description:
A 42-hectare protected area, Silonay Mangrove Conservation Area and Ecotourism is a haven of fireflies, migratory birds, various kind of fish, and of course, mangrove. Upon entering the area, travelers can leisurely walk deep into the mangrove forest through a 300-meter bamboo bridge. Found in the area are various types of mangrove such as the River Poison Tree, Asiatic Mangrove, Mangrove Apple, and Tall-Silted Mangrove. Best visited during high tide, this ecotourism zone offers kayaking (P50/hour, two seats), birdwatching (bring your own binoculars, November to March), and dolphin watching (April and May). Kayaking is the highlight of this destination. Aboard the colorful plastic kayaks, visitors would cruise through fishermen's trails, in between mangroves, and exit to Silonay River. During low tide, however, the mangrove forest reveals a muddy ground, where kayaking is not possible.