About

History & Culture

Top Attractions

Planning a Trip

Events

Travel Resources

Itineraries
Socorro
Officially the Municipality of Socorro, is a 3rd class municipality in the province of Oriental Mindoro, Philippines. According to the 2015 census, it has a population of 39,099 people.
Socorro is located at the junction of the Pola Road and is 61 kilometers (38 mi) from Calapan.
In the last decade of the 20th century and the first decade of the 21st century, many roads were paved, the market rebuilt, and employment rose. Agriculture still provides the main industry with rice, fruits, and coconut products dominating. Citrus products like calamansi, dalandan and pomelo are also abundant here together with rambutan and lanzones. Fresh fish from Lake Naujan at the northern end of the municipality and Balut are also important products. There is a large Mangyan population in the more remote parts of the municipality, and programs of assistance for these people have been implemented.
Barangays
Socorro is politically subdivided into 26 barangays.
| Barangay | Population (2016) |
| --- | --- |
| Bagsok | 1,623 |
| Batong Dalig | 870 |
| Bayuin | 2,405 |
| Calocmoy | 1,749 |
| Catiningan | 2,139 |
| Villareal (Daan) | 890 |
| Fortuna | 2,918 |
| Happy Valley | 1,165 |
| Calubayan | 1,179 |
| Leuteboro I | 1,854 |
| Leuteboro II | 2,025 |
| Mabuhay I | 1,045 |
| Mabuhay II | 1,757 |
| Malugay | 725 |
| Matungao | 2,719 |
| Monteverde | 927 |
| Pasi I | 808 |
| Pasi II | 827 |
| Zone I (Pob.) | 1,081 |
| Zone II (Pob.) | 624 |
| Zone III (Pob.) | 969 |
| Zone IV (Pob.) | 2,633 |
| Santo Domingo (Lapog) | 1,864 |
| Subaan | 2,374 |
| Bugtong Na Tuog | 1,221 |
| Ma. Concepcion | 708 |
| Total | 39,099 |
Demographics
Population census of Socorro

Year

Pop.

±% p.a.

1970

15,456

—    

1975

20,868

+6.21%

1980

24,332

+3.12%

1990

29,806

+2.05%

1995

34,182

+2.60%

2000

37,176

+1.82%

2007

38,052

+0.32%

2010

38,348

+0.28%

2015

39,099

+0.37%

Source: Philippine Statistics Authority
Brief History
Socorro was formerly part of Pola. It became a separate municipality on June 22, 1962 by virtue of Republic Act No. 3609 and was inaugurated as such on July 27, 1963. The town was named after the wife of Cong. Luciano A. Joson, filer of the bill creating the town.
La Fortuna Falls
La Fortuna Falls is a 20-minute trek upstream from the riverbank of La Fortuna River & Bridge. The waterfall is about 20 meters high, and is enclosed in stone walls that may be ideal for rappelling. The waterfall drops into a shallow water basin, and courses through a stream and out to La Fortuna River. The charming feature of this destination are the stone walls at the passageway right before reaching the waterfall. The walls close in, like in a cave, with trees above serving as canopy. Because the waterfall area is quite small, only a group of 10 or less would be comfortable hanging out here. The 20-minute trek to the waterfall is slippery, with loose rocks and protruding roots. Prepare to get wet up to the knees.
La Fortuna River and Bridge
La Fortuna River serves as an outdoor recreation and local market (Tuesdays and Fridays only) in Barangay La Fortuna in Socorro. The river itself is wide and shallow, though some of the curving sections are waist-deep. During typhoons, however, the river swells deeper and almost twice wider. Crossing the river can be done three ways: either you wade through it and get wet knee-deep, walk through the steel hanging bridge, or ride a balsa, a bamboo-based raft (P5). About 30 meters away, you'll find water streaming from the forest into the river. From there, trekking up the stream for 20 minutes leads to an unnamed waterfall, temporarily called La Fortuna Waterfall. During Tuesdays and Fridays, however, the riverbank near the bridge transforms into a tiangge, a makeshift market where residents sell local produce such as bananas, gabi (taro), San Fernando (another type of taro), langka, rambutan, lanzones, and durian.
Naujan Lakeview Park
Naujan Lakeview Park is a view deck in Socorro, overlooking Naujan Lake, the fifth largest lake in the Philippines. Like the view deck going to Tagaytay, the view deck of Socorro is along the highway, and could be a good rest stop during a long road trip in Oriental Mindoro. Naujan Lakeview Park has two decks, one private, which has already closed, and one public. Though the two lie along the Nautical Highway, the private deck is more elevated and has a panoramic view of the lake. Meanwhile, the public deck is lower and offers only some view of the lake. Today, Naujan Lakeview Park is a small plot of grassy land with towering palm trees. Visitors are welcome to hangout or have a picnic here. Plans to develop the area into a hotel are currently underway.
Pakapya Agtike Festival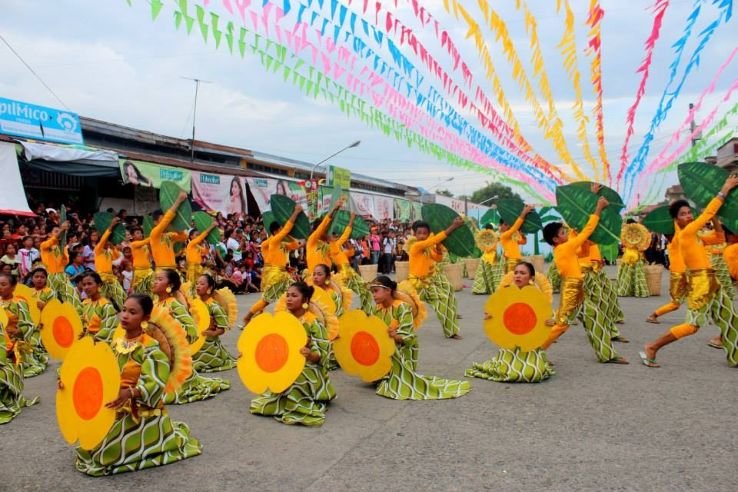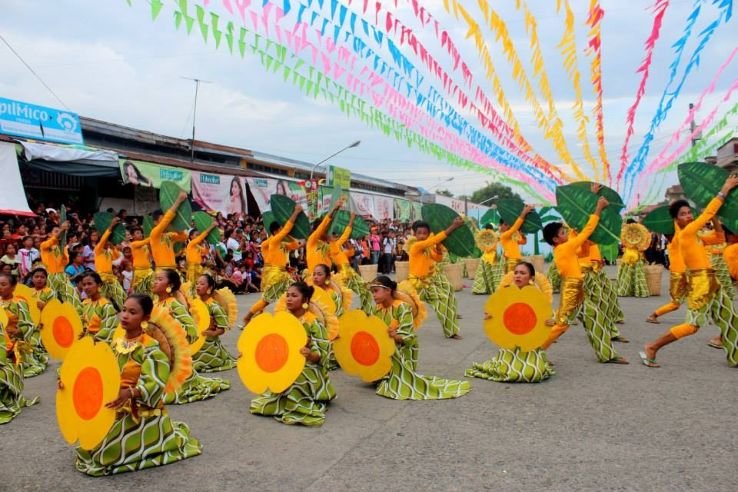 For their bounty and blessed harvest, they show their gratefulness and thanksgiving through a festivity called Pakapya-Agtike. This is celebrated every 26th day of the month of July and features lot of activities such as cultural shows done by people of Socorro, parade of colorful floats. The highlight of this celebration is the street dancing competition showing how blessed they are in terms of agriculture done by group of Mangyan Tribes, students, schools' faculties, and barangay residents and officials. This festivity is for thanksgiving to the rich harvest of Socorro's farmers offered and celebrated in honor to the town's patron saint the Holy Family. As they believe that they owe all of the fruits of their crops to them, they do this ritual yearly to achieve better harvest for each and upcoming years. What matters most on this celebration is that they celebrate what their tradition is and it gives smile to the visitors who travel extra distance to witness this culture-rich event.
source: http://www.hotelsphilippines.org/holidays-events-a-fiestas/july/205-pakapya-agtike-festival--socorro,-oriental-mindoro.html
Travel Resources
Travel planning is about more than just knowing where you're going. Prepares to navigate, take control and be ready for anything. This section helps you steer clear of disaster and stay open enjoy the unexpected.
Quick Tips
Banks– Open Monday to Friday 9am to 2pm. Some banks are closed for lunch.
Emergencies– For police, dial a local phone number; for ambulance call a hospital.
Internet Access– Wifi is standard in most hotels and free in many coffee shops.
Mail– Buy stamps at the Post Office. Convenient post offices are located all cities. Most are open Monday to Friday 9am to 3pm.
Safety– Pickpocketing can be a common problem. It is suggested for men to keep wallets in their front pocket. Purse snatching also occurs at times.
Transportation
Getting in from the airport and other arrival locations. Travel planning is about more than just knowing where you're going. Prepares to navigate, take control and be ready for anything. This section helps you steer clear of disaster and stay open enjoy the unexpected.
Plane– Flights arrive at the main airport near city center. If flying from European cities, you might land at a connecting airport. There is a tourist information office at the Terminal E, international arrivals, open 8am to 6pm.
Train– A train station is on the lower level of the airport. To get into the city, follow the marked signs.
Taxi– From the airport there is a flat-rate for the 1-hour trip, depending on traffic. Hotels charge up to $80 for shuttle service.
Train & Bus– Trains and buses arrive a city center. This is the transportation hub for the city and is surrounded hotels.
A perfect place for exploring on foot, with local shops around every corner. You will eventually walk somewhere, it's just going to happen. If you don't like crowds, uneven cobblestones, heavy traffic or narrow sidewalks, take a taxi or rent a scooter.