About

History & Culture

Top Attractions

Planning a Trip

Events

Travel Resources

Itineraries
Roxas
Officially the Municipality of Roxas, is a 2nd class municipality in the province of Oriental Mindoro, Philippines. According to the 2015 census, it has a population of 53,201 people.
It is considered as the center of socio-cultural activities in the southern part of Oriental Mindoro. During Christmas season, the indigenous Mangyan people from the uplands go to this common destination to receive gifts from kindhearted lowlanders mostly in the form of old clothing, bread, rice and even money.
Barangays
Roxas is politically subdivided into 20 barangays. Barangays Bagumbayan, Cantil, Odiong and Paclasan are considered as urban and the rest as rural areas.
| Barangay | Population (2016) |
| --- | --- |
| Bagumbayan (Pob.) | 6,868 |
| Cantil | 3,148 |
| Dangay | 3,743 |
| Happy Valley | 1,199 |
| Libertad | 1,663 |
| Libtong | 2,249 |
| Mabuhay | 1,433 |
| Maraska | 611 |
| Odiong | 3,525 |
| Paclasan (Pob.) | 5,202 |
| San Aquilino | 3,245 |
| San Isidro | 2,073 |
| San Jose | 3,305 |
| San Mariano | 4,475 |
| San Miguel | 1,386 |
| San Rafael | 1,596 |
| San Vicente | 3,672 |
| Uyao | 920 |
| Victoria | 2,007 |
| Little Tanauan | 881 |
| Total | 53,201 |
Demographics
Population census of Roxas

Year

Pop.

±% p.a.

1960

16,940

—    

1970

20,342

+1.84%

1975

24,273

+3.61%

1980

25,458

+0.96%

1990

33,178

+2.68%

1995

34,045

+0.48%

2000

41,265

+4.21%

2007

46,711

+1.72%

2010

49,854

+2.40%

2015

53,201

+1.24%

Source: Philippine Statistics Authority
Brief History
Roxas started as a small barrio of Mansalay called Tikling by the banks of the Tikling River and settled by migrants from Panay, Romblon and Batangas. It was later named Paclasan (from palasan, a species of palm growing abundantly on marshy surroundings). Roxas became a separate municipality on October 15, 1948 by virtue of Exec. Order No. 181 and was inaugurated as such on November 15. The town was renamed after Pres. Manuel A. Roxas.
San Rafael Cave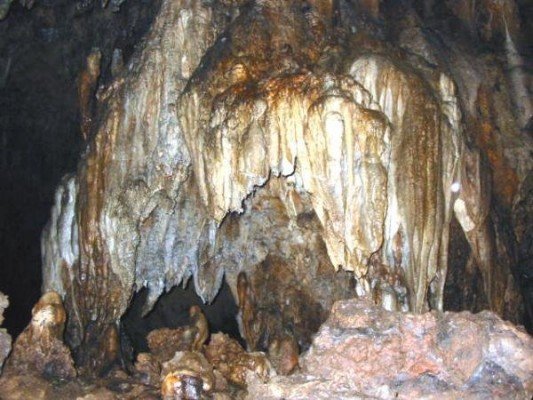 San Rafael Cave is the largest cave in Oriental Mindoro. It is made up of 10 chambers, all of which takes about two hours to explore. Visiting the first seven chambers require easy trekking, while reaching the eighth chamber requires crawling into a narrow passageway. To get here, visitors are advised to hire a guide at the Tourism Assistance Office, located just across the Barangay Hall of San Rafael. The guide fee costs P35 to P200 per head, which includes a helmet and a flashlight. Getting to the cave itself takes about 45 minutes of trekking. Among the 10 chambers, two are worth mentioning. The first chamber, called the Limahong Cave, is named after the Chinese pirate Limahong. Legend has it that Limahong hid part of his treasure in this cave. Another is called the Terraces chamber, which houses several water basins, shaped like the steps of rice terraces.
Pres. Manual A. Roxas Museum
Pres. Manual A. Roxas Museum is a small museum dedicated to the fifth Philippine President, Manuel A. Roxas. He is also the last president of the Commonwealth, and the first president of the Third Republic. The museum's centerpiece is the bust of President Roxas, surrounded by photographs and memorabilia about the president and the previous mayors of Roxas. The museum also has a relief map of the town, and a shelf of books and encyclopedia donated by its town residents.
Happy Valley Mountain View & Paraiso Falls
To reach it, one has to hike 45 minutes from the village. The top of Happy Valley Mountain offers trekkers the relish of refreshing and magnificent view of the entire municipality and neighboring towns. Its scenic vista soothes tired souls and heavy heats. Amidst Happy Valley Mountain is the breathtaking Paraiso Falls. Secluded and unspoiled, it is unique with cool water coming from the spring on the top of the mountain. The falls is a series of crystal-clear water that cascade down to a basin on mountainside gracefully flowing one tier to another. It is beautifully arranged like a flight of stair surrounded by lush foliage of green vegetation. It is an ideal retreat haven for nature lovers.
source: http://roxasmindoro.blogspot.com/2011/08/tourist-attactions.html
Planning a Trip
Pre-departure planning is important. Here are certain things you should watch for and plan for.
Visas
Check with the appropriate consulate or embassy in your country to find out if you will need a visa to visit the country of your destination, especially for an extended period of time. Some countries have extremely detailed and complicated entry/departure laws, and treat visits of a week or two very differently from longer stays.
Money
If you're traveling to one area, check the cost of living there. If it's high you'll probably want to budget more carefully and save some money before leaving. The lower the cost of living the less you'll have to save, but be sure to have a back up reserve in emergency cases.
General Tips
Talk to other people who have done a similar trip.
If you don't know anyone personally, try any of the dozens of online travel web sites full of first-person travel stories covering every possible type of trip.
Plan big and loose. Read everything you can about the area.
There may be sights and attractions you didn't know about. A rough outline of your trip might have three or four target points and a variety of ways to get between them.
You don't want to find out that the weather isn't what you thought, or the guide book was incorrect, after committing to 6 weeks in a specific spot.
Some trips will allow you more leeway than others. Travel plans in Asia can often be made day-by-day while summer travel in Europe should be organized at least a few weeks ahead, unless you're prepared to hunt around for hotel rooms and train seats.
Set up a pre-trip time-line so you don't end up with a full todo list your last week of work or school.
Things to consider are doctor's visits for a check up, inoculations, and prescription refills; purchasing plane tickets; renewing passports and obtaining visas and other documents.
Check your insurance coverage abroad and purchasing additional travel insurance if needed. Don't forget visiting friends and family members!
The longer the trip, the lighter you should pack. This might seem strange, but it's true you can afford to lug a heavy bag around for a week or two, but do you want to have anything extra for a year?
Stick to the absolute basics and know what you can and cannot buy at your destination(s). There's no point in bringing 6 months of toothpaste to Europe or buying a sarong at home to take to the tropics. If you are visiting several climates, try to arrange it so you visit the warmer places first and coldest last. That way you can purchase sweaters and long pants and not have to carry them any more than needed. Alternately, visit cold climates first and then ship unneeded layers home — or sell them off.
A good rule of thumb is to bring one outfit for the hottest day you're likely to encounter, one for an average day, and one for the coldest.
Make sure everything goes with everything else (if that's important to you), and remember that layers are always best.
Be prepared for uncomfortable trips. You will often find yourself in a busy, cramped, economy class environment and it could be for many hours – especially long plane trips.
If you want to arrive at your destination refreshed and able to enjoy the sights, then try a good quality travel pillow to support your head, some ear plugs to block out the screaming babies, and an eye cover to block out the sun or cabin lights.
Just avoid those cheap U-shaped pillows from airport shops – your head drops forward and you wake up with a stiff neck.
Make contact with the locals before you go.
Maybe you have a friend-of-a-friend or a foreign exchange student from high school you remember, or just found a friend through a travel web site; almost everyone is happy to welcome a foreign visitor to their home town. This might be as elaborate as a home-stay for a few weeks, or just coffee in their home town or dinner at a locals restaurant.
Sipag Festival
The municipality of Roxas serves as the center of trade and commerce in the southern part of Oriental Mindoro because of its bountiful products – palay and fruits like bananas, rambutan, lansones, mangoes, and aquatic harvests, and the different vegetables that abound in its farms. Sipag Festivals is basically a product festival featuring the various produce of the locality. S stands for saging (banana); I for isda (fish); P is for prutas (fruits); PA for palay; and G for gulay (vegetables). The term "sipag" embodies the industriousness and ingenuity of the people for which Roxas is proud of.
source: http://www.localphilippines.com/events/sipag-festival-of-roxas
Travel Resources
Travel planning is about more than just knowing where you're going. Prepares to navigate, take control and be ready for anything. This section helps you steer clear of disaster and stay open enjoy the unexpected.
Quick Tips
Banks– Open Monday to Friday 9am to 2pm. Some banks are closed for lunch.
Emergencies– For police, dial a local phone number; for ambulance call a hospital.
Internet Access– Wifi is standard in most hotels and free in many coffee shops.
Mail– Buy stamps at the Post Office. Convenient post offices are located all cities. Most are open Monday to Friday 9am to 3pm.
Safety– Pickpocketing can be a common problem. It is suggested for men to keep wallets in their front pocket. Purse snatching also occurs at times.
Transportation
Getting in from the airport and other arrival locations. Travel planning is about more than just knowing where you're going. Prepares to navigate, take control and be ready for anything. This section helps you steer clear of disaster and stay open enjoy the unexpected.
Plane– Flights arrive at the main airport near city center. If flying from European cities, you might land at a connecting airport. There is a tourist information office at the Terminal E, international arrivals, open 8am to 6pm.
Train– A train station is on the lower level of the airport. To get into the city, follow the marked signs.
Taxi– From the airport there is a flat-rate for the 1-hour trip, depending on traffic. Hotels charge up to $80 for shuttle service.
Train & Bus– Trains and buses arrive a city center. This is the transportation hub for the city and is surrounded hotels.
A perfect place for exploring on foot, with local shops around every corner. You will eventually walk somewhere, it's just going to happen. If you don't like crowds, uneven cobblestones, heavy traffic or narrow sidewalks, take a taxi or rent a scooter.