About

History & Culture

Top Attractions

Planning a Trip

Events

Travel Resources

Itineraries
Pola
Officially the Municipality of Pola, is a 3rd class municipality in the province of Oriental Mindoro, Philippines. According to the 2015 census, it has a population of 34,701 people.
Pola is the birthplace of former vice president and veteran ABS-CBN broadcaster Noli de Castro and DZMM Broadcaster and Field Reporter Noel Alamar. It is 74 kilometres (46 mi) from Calapan.
Barangays
Pola is politically subdivided into 23 barangays.
| Barangay | Population (2016) |
| --- | --- |
| Bacawan | 1,458 |
| Bacungan | 567 |
| Batuhan | 2,842 |
| Bayanan | 1,820 |
| Biga | 1,179 |
| Buhay Na Tubig | 1,207 |
| Calubasanhon | 1,420 |
| Calima | 1,994 |
| Casiligan | 1,878 |
| Malibago | 1,196 |
| Maluanluan | 3,316 |
| Matulatula | 3,921 |
| Pahilahan | 2,053 |
| Panikihan | 1,565 |
| Zone I (Pob.) | 433 |
| Zone II (Pob.) | 598 |
| Pula | 1,780 |
| Puting Cacao | 809 |
| Tagbakin | 1,469 |
| Tagumpay | 736 |
| Tiguihan | 804 |
| Campamento | 597 |
| Misong | 1,059 |
| Total | 34,701 |
Demographics
Population census of Pola

Year

Pop.

±% p.a.

1903

1,650

—    

1918

4,307

+6.61%

1939

10,107

+4.15%

1948

12,612

+2.49%

1960

21,884

+4.70%

1970

18,789

−1.51%

1975

19,072

+0.30%

1980

23,188

+3.98%

1990

26,833

+1.47%

1995

29,156

+1.57%

2000

31,938

+1.97%

2007

32,635

+0.30%

2010

32,984

+0.39%

2015

34,701

+0.97%

Source: Philippine Statistics Authority
Brief History
Pola's name was derived from the Tagalog word for "red," the color its soil. During the 17th century, Spanish Recollect friars supervised the town. Pola Bay was convenient stopover and launch area of Moro pirates during their raids of Calapan and Naujan. In 1898, agitation against Spanish rule was more manifested here due to the instigation of Esteban de Jesus, a Taaleño from Batangas. In 1901, upon the arrival of the Americans, local government was established. On April 28, 1904, by virtue of Act No. 1135, it reverted back to a barrio and was consolidated with Bongabong and Pinamalayan. In 1910, by virtue of Exec. Order 31, it reverted back to a separate municipality and was proclaimed as such on January 1, 1912. In 1962, Socorro was carved out of the town.
Aguada Beach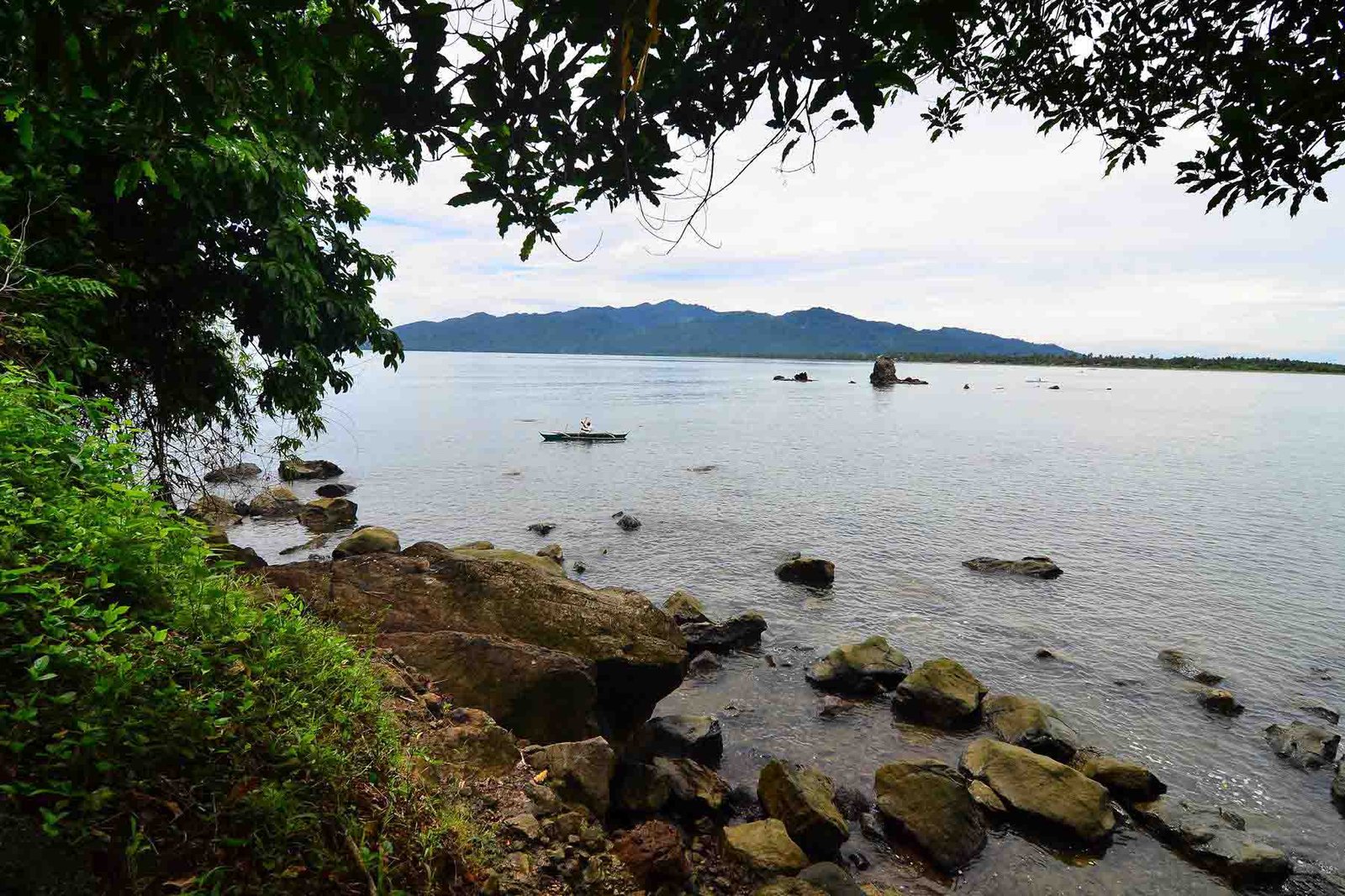 Spanning about 200 meters of fine black sand, Aguada Beach is a backpackers' beach that is free to visit and is accessible to everyone traveling in Pola. While it is deemed exotic because of its black sand, the beach could be charming during low tide, when the shore is flat and vast, and creeping with baby crabs. Aguada Beach faces Marinduque Island. To its far left, however, is a mangrove forest. During low tide, you can walk on the dead corals where some of the mangroves thrive, and access the stone steps leading up the St. John the Baptist Shrine. There are no restaurants, hotels, or resorts in the area.
Bihiya Beach
Bihiya Beach shares the creamy white sand of Puerto Galera's famous beaches. While the beach is only about 200 meters long, there are three more neighboring beaches of similar shore length. The three others, however, have coarse sand or pebbly corals. Bihiya Beach has the finest sand in area. The beach has low-lying coconut trees, some of which carry tuba, or locally fermented coconut wine. Although there are no amenities, convenience stores, or electricity in the area, the campsite is spacious enough to hold 20 to 30 tents. It is best to visit this beach together with Taguan Falls and Misong Mangrove Forest, for a weekend getaway in Pola, Oriental Mindoro.
Taguan Falls and Misong Mangrove Forest
Taguan Falls is a low-lying waterfall that is surrounded by a few residential houses in Barangay Misong. While the waterfall itself is geographically located in Pola, the picnic or camping ground is located on the border of Barangay Misong in Pola and Barangay Herrera in Naujan. What makes this waterfall unique, however, is the mangrove forest at the mouth of the river. Whether you're coming from Pola or Naujan, the boat you're boarding on will enter the mangrove forest from the sea. The boat docks on muddy soil, from which you may walk 5 to 10 minutes to get to the waterfall. Tabunan Falls and Misong Mangrove Forest is usually bundled with Bihiya Beach for a weekend getaway in Pola, Oriental Mindoro. While there is electricity among the residential houses, there are no convenience stores, amenities, or electricity in the camping area.
Talon Falls
Talon Falls is a short, trekking adventure in the forest of Barangay Calima in Pola, Oriental Mindoro. The falls is about 5 meters high, and 4 to 5 meters deep. It is shaded by trees and walled in by limestone rocks. It is advisable to get a guide (P150/group) from the Barangay Hall in Calima, which is just about 5 minutes away from the falls' jump-off point. Trekking to the waterfalls takes about an hour. Another waterfall lies upstream, over Talon Falls. To get there, however, you would have to climb the right wall and secure a rope to reach the top. It's advisable to reach the second waterfall only with the help of an experienced wall climber.
Old Houses in Pola
Walking around the old houses in Pola is like stepping inside a polaroid photograph. If you were to see their photos taken in the 1960s, you could barely pinpoint the difference. Only electric posts and wires have been added on the streets. While much of their exterior have remained the same, the residents among these houses come and go. The houses were built in the early 19th century, and were designed after American and Spanish architecture. This area resisted change due to the little development in Pola, whose access is diverted away from the main road of the Oriental Mindoro province. It's advisable to visit this area for a photowalk early in the morning, or for a short walk at night. The old houses are just a block away from the town municipal, and is 5 to 10 minutes away from Aguada Beach and St. John the Baptist Shrine.
Planning a Trip
Pre-departure planning is important. Here are certain things you should watch for and plan for.
Visas
Check with the appropriate consulate or embassy in your country to find out if you will need a visa to visit the country of your destination, especially for an extended period of time. Some countries have extremely detailed and complicated entry/departure laws, and treat visits of a week or two very differently from longer stays.
Money
If you're traveling to one area, check the cost of living there. If it's high you'll probably want to budget more carefully and save some money before leaving. The lower the cost of living the less you'll have to save, but be sure to have a back up reserve in emergency cases.
General Tips
Talk to other people who have done a similar trip.
If you don't know anyone personally, try any of the dozens of online travel web sites full of first-person travel stories covering every possible type of trip.
Plan big and loose. Read everything you can about the area.
There may be sights and attractions you didn't know about. A rough outline of your trip might have three or four target points and a variety of ways to get between them.
You don't want to find out that the weather isn't what you thought, or the guide book was incorrect, after committing to 6 weeks in a specific spot.
Some trips will allow you more leeway than others. Travel plans in Asia can often be made day-by-day while summer travel in Europe should be organized at least a few weeks ahead, unless you're prepared to hunt around for hotel rooms and train seats.
Set up a pre-trip time-line so you don't end up with a full todo list your last week of work or school.
Things to consider are doctor's visits for a check up, inoculations, and prescription refills; purchasing plane tickets; renewing passports and obtaining visas and other documents.
Check your insurance coverage abroad and purchasing additional travel insurance if needed. Don't forget visiting friends and family members!
The longer the trip, the lighter you should pack. This might seem strange, but it's true you can afford to lug a heavy bag around for a week or two, but do you want to have anything extra for a year?
Stick to the absolute basics and know what you can and cannot buy at your destination(s). There's no point in bringing 6 months of toothpaste to Europe or buying a sarong at home to take to the tropics. If you are visiting several climates, try to arrange it so you visit the warmer places first and coldest last. That way you can purchase sweaters and long pants and not have to carry them any more than needed. Alternately, visit cold climates first and then ship unneeded layers home — or sell them off.
A good rule of thumb is to bring one outfit for the hottest day you're likely to encounter, one for an average day, and one for the coldest.
Make sure everything goes with everything else (if that's important to you), and remember that layers are always best.
Be prepared for uncomfortable trips. You will often find yourself in a busy, cramped, economy class environment and it could be for many hours – especially long plane trips.
If you want to arrive at your destination refreshed and able to enjoy the sights, then try a good quality travel pillow to support your head, some ear plugs to block out the screaming babies, and an eye cover to block out the sun or cabin lights.
Just avoid those cheap U-shaped pillows from airport shops – your head drops forward and you wake up with a stiff neck.
Make contact with the locals before you go.
Maybe you have a friend-of-a-friend or a foreign exchange student from high school you remember, or just found a friend through a travel web site; almost everyone is happy to welcome a foreign visitor to their home town. This might be as elaborate as a home-stay for a few weeks, or just coffee in their home town or dinner at a locals restaurant.
Sab-Uyan Festival
img source: https://www.facebook.com/tarasaorientalmindoro/posts/sab-uyan-festivalhappy-fiesta-bayan-ng-pola-at-isang-maligaya-at-masaganang-pagp/2067633843457406/
Legend says that a long time ago, a fisherman saw a statue on the shore. The statue was identified later by the priest as the statue of St. John the Baptist and from then on it has become the town's Patron Saint. Sab'uyan Festival takes place every June 24 in honor of the Patron St. John the Baptist. The image is taken from the church and carried on procession to the sea where it was first found. It is accompanied by a band and set on a beautifully decorated big boat. The Sab'uyan begins. People in the boat throw seawater to one another chanting "Viva San Juan Bautista." After the procession at sea, the image is carried around town. Dancers from various groups follow he image. The Sab'uyan continues. The splashing of water is received with good humor of people believe that being doused brings good health, luck and happiness. The procession ends in the church plaza.
source: http://www.localphilippines.com/events/sab'uyan-festival-of-pola
Feast of St. John The Baptist / Lechon Festival
At the Lechon Festival, or Parada ng Lechon, in local parlance, roast pigs or lechon garbed in creative costumes are paraded around the town to the accompaniment of gay chanting and "buhusan" – a customary practice during the San Juan Bautista feast, which involves water dousing. A selection of the best from among the lechon entries follows, along with a free-for-all banquet open to the townsfolk and visitors alike.
source: http://www.localphilippines.com/events/feast-of-st.-john-the-baptist-lechon-festival
Lechon Festival and Gabi ng Pakulo
This is a religious festival in honor of St. John the Baptist, coupled with a festive social affair. It is usually a banquet, preceded by a pagoda and the parade of lechon (roast pig).
Its most interesting feature is the "Gabi ng Pakulo," a combination of street dancing and all sorts of cultural entertainment, performed by different barangays on the streets of Pola.
source: http://www.localphilippines.com/events/lechon-festival-and-gabi-ng-pakulo
Travel Resources
Travel planning is about more than just knowing where you're going. Prepares to navigate, take control and be ready for anything. This section helps you steer clear of disaster and stay open enjoy the unexpected.
Quick Tips
Banks– Open Monday to Friday 9am to 2pm. Some banks are closed for lunch.
Emergencies– For police, dial a local phone number; for ambulance call a hospital.
Internet Access– Wifi is standard in most hotels and free in many coffee shops.
Mail– Buy stamps at the Post Office. Convenient post offices are located all cities. Most are open Monday to Friday 9am to 3pm.
Safety– Pickpocketing can be a common problem. It is suggested for men to keep wallets in their front pocket. Purse snatching also occurs at times.
Transportation
Getting in from the airport and other arrival locations. Travel planning is about more than just knowing where you're going. Prepares to navigate, take control and be ready for anything. This section helps you steer clear of disaster and stay open enjoy the unexpected.
Plane– Flights arrive at the main airport near city center. If flying from European cities, you might land at a connecting airport. There is a tourist information office at the Terminal E, international arrivals, open 8am to 6pm.
Train– A train station is on the lower level of the airport. To get into the city, follow the marked signs.
Taxi– From the airport there is a flat-rate for the 1-hour trip, depending on traffic. Hotels charge up to $80 for shuttle service.
Train & Bus– Trains and buses arrive a city center. This is the transportation hub for the city and is surrounded hotels.
A perfect place for exploring on foot, with local shops around every corner. You will eventually walk somewhere, it's just going to happen. If you don't like crowds, uneven cobblestones, heavy traffic or narrow sidewalks, take a taxi or rent a scooter.