About

History & Culture

Top Attractions

Planning a Trip

Events

Travel Resources

Itineraries
Calapan
Officially the City of Calapan, (Filipino: Lungsod ng Calapan), or referred simply as Calapan City is a 3rd class city and the capital of the province of Oriental Mindoro, Philippines. According to the 2015 census, it has a population of 133,893 people.
The city serves as the gateway to the Oriental Mindoro province with the implementation of the Strong Republic Nautical Highway (SRNH) an integrated ferry project of then President Gloria Macapagal Arroyo that extends further to the southern part of the Philippines. The Calapan City Seaport is the largest and busiest seaport on Mindoro Island, which is just 45 minutes away by ferry boats and roll-on/roll-off (RORO) ships to-and-fro Batangas City International Seaport.
Calapan is currently one of the only two cities in Region 4-B (Mimaropa Region) the other being Puerto Princesa City in Palawan. Calapan serves as the region's administrative center. It is also the center of commerce, industry, transport, communication, religious activities and education in the entire province of Oriental Mindoro.
Barangays
The City of Calapan is politically subdivided into 62 barangays.
| Barangay | Population (2016) |
| --- | --- |
| Balingayan | 1,570 |
| Balite | 3,472 |
| Baruyan | 3,029 |
| Batino | 1,711 |
| Bayanan I | 1,041 |
| Bayanan II | 2,951 |
| Biga | 2,250 |
| Bondoc | 416 |
| Bucayao | 2,667 |
| Buhuan | 946 |
| Bulusan | 3,936 |
| Santa Rita (Bungahan) | 1,770 |
| Calero (Pob.) | 1,478 |
| Camansihan | 2,377 |
| Camilmil | 4,557 |
| Canubing I | 3,497 |
| Canubing II | 3,582 |
| Comunal | 3,051 |
| Guinobatan | 3,748 |
| Gulod | 897 |
| Gutad | 1,364 |
| Ibaba East (Pob.) | 1,068 |
| Ibaba West (Pob.) | 2,687 |
| Ilaya (Pob.) | 3,974 |
| Lalud | 4,410 |
| Lazareto | 4,555 |
| Libis (Pob.) | 1,564 |
| Lumang Bayan | 4,965 |
| Mahal Na Pangalan | 1,316 |
| Maidlang | 1,117 |
| Malad | 822 |
| Malamig | 1,863 |
| Managpi | 2,742 |
| Masipit | 3,115 |
| Nag-Iba I | 947 |
| Navotas | 765 |
| Pachoca | 3,362 |
| Palhi | 2,475 |
| Panggalaan | 574 |
| Parang | 3,018 |
| Patas | 868 |
| Personas | 1,405 |
| Putingtubig | 1,507 |
| Salong | 3,367 |
| San Antonio | 3,448 |
| San Vicente Central (Pob.) | 359 |
| San Vicente East (Pob.) | 622 |
| San Vicente North (Pob.) | 749 |
| San Vicente South (Pob.) | 608 |
| San Vicente West (Pob.) | 608 |
| Santa Cruz | 737 |
| Santa Isabel | 3,915 |
| Santo Niño | 3,804 |
| Sapul | 2,792 |
| Silonay | 1,383 |
| Santa Maria Village | 1,517 |
| Suqui | 2,041 |
| Tawagan | 1,217 |
| Tawiran | 2,152 |
| Tibag | 2,441 |
| Wawa | 919 |
| Nag-Iba II | 1,785 |
| Total | 133,893 |

San Vicente Central
J.P. Rizal Avenue which is named after the Philippine National Hero, Jose Rizal, in San Vicente Central, is Calapan's busiest street.
San Vicente Central is one of Calapan's barangays and serves as the commercial and financial center of the city. It is divided by J.P. Rizal Avenue, the major thoroughfare in the city lined by several commercial establishments.
Climate
Calapan's climate is described as mild. It is relatively dry from November to April and wet during the rest of the year. February and March have the least rainfall while October and November are the months of greatest rainfall. Average yearly rainfall is 2,500 to 4,500 millimetres (98 to 177 in) at the City's south-west portion. The average daily temperature is 22.9 to 28.3 °C (73.2 to 82.9 °F).
Wind direction throughout the year is variable; Northeast monsoons prevail from August, November, December and January to March; East to Northeast on April; Southeast to South on May and June; Northeast to South on July and September, and Easterly on October.
Climate is favorable for vegetation throughout the year under the Type III climate type of the Philippine weather bureau, PAGASA, with relative humidity at 81%.
Demographics
Population census of Calapan

Year

Pop.

±% p.a.

1903

5,554

—    

1918

13,571

+6.14%

1939

17,158

+1.12%

1948

22,340

+2.98%

1960

33,060

+3.32%

1970

47,532

+3.69%

1975

55,608

+3.20%

1980

67,370

+3.91%

1990

85,898

+2.46%

1995

96,506

+2.21%

2000

105,910

+2.01%

2007

116,976

+1.38%

2010

124,173

+2.20%

2015

133,893

+1.45%

Source: Philippine Statistics Authority
History of Calapan
The derivation of the name of Calapan cannot be traced with certainty. Some opined that it came from the word "Kalap" which means to gather logs. Thus "Kalapan" was supposed to be a place where logs were gathered. In the old records, however, there was never a mention of Calapan as a place where logs were produced or exported. Furthermore, huge forest trees where logs were produced certainly did not grow near the town, which was swampy. Another theory holds that Calapan was originally pronounced as "Kalapang" which, according to an old Tagalog dictionary, was a synonym for "sanga" or branch. It could then refer to the settlement of Kalapang as a branch of its mother town of Baco, an adjoining town. The name was later hispanized as Calapan.
Political and Cultural History
The City of Calapan was founded as a parish in 1679 by a Spanish Augustinian Recollect priest, Fr. Diego dela Madre de Dios. Human settlements were established around the parish church which later became the beginning of a small town.
The District convent was transferred to Calapan in 1733 and began its jurisdiction over the Northern Mindoro Ecclesiastical Area.
In the early 18th century, the town occupied only a strip of land stretching from Ibaba to Ilaya in a cross – formed facing the present church and cut-off by a river. In the course of the century, succeeding barrios were founded.
In 1837, the capital of the province was moved from Puerto Galera to Calapan. When Mindoro became a part of Marinduque on June 13, 1902, under Act. No. 423, the capital of Mindoro was transferred to Puerto Galera under the Law. It was re-transferred to Calapan in 1903 for geographical and transportation purposes.
When Mindoro was detached from Marinduque on November 10, 1902, Baco, Puerto Galera and San Teodoro were annexed to Calapan in 1905 under Act. 1280, adding a total area of 843 sq. km. of land. In 1902, under Act 2824, the three (3) municipalities gained their independence.
In 1919, the boundary dispute between Calapan and Naujan was adjudicated by Presidentes Agustin Quijano of Calapan and Agustin Garong of Naujan over a portion of the territory of what is now known as the present boundary. The portion of agricultural area was awarded to Naujan, thus, making the area of Calapan much smaller as compared to that of Naujan which is now considered as the biggest municipality of the province.
The year 1998 was a landmark event for Calapan when it was converted from a municipality into a component city by virtue of Republic Act No. 8475. The law was authored in Congress by Rep. Renato V. Leviste and was signed by President Fidel V. Ramos on February 2, 1998 in Malacanang Palace. On March 21, 1998, the people of Calapan ratified the creation of the City of Calapan in a plebiscite. March 21, 1998 is therefore marked as the Foundation Day of the City of Calapan. Incumbent Mayor Arnan C. Panaligan became the last Municipal Mayor and the First City Mayor of the City of Calapan. Also, it is the first and only city in the province of Oriental Mindoro.
Since its creation as a city, Calapan has witnessed significant strides in commerce and industry, infrastructure and social services. New commercial establishments were opened providing employment and income opportunities for the residents. An expanded program on social services delivery, particularly in health care and education, were undertaken. The city's physical infrastructure was upgraded which includes the construction of new roads and drainage facilities. Tourism was boosted with the opening of inland resorts and new hotels.
Sixteen years after, the City of Calapan has been transformed from a newly created component city into creating its own identity as "Fly High as ONE CALAPAN: The City of Discipline and Good Character". A more resolute City's Vision states: "METRO CALAPAN 2026: MIMAROPA's Premier center of Investments and Agro-industry", while the Mission Statement is "The City of Calapan shall initiate and sustain programs to create an environment conducive to development and progress thru transparent and participatory governance."
The City Government of Calapan likewise initiates program under the City of Discipline and Good Character called the Eight Character Traits. These are godliness (doing what is pleasing to God), responsibility (knowing and doing what is expected of me), respectability (showing consideration and regard to yourself, others and the world around you), gratefulness (letting others know by my words and actions how they have benefited my life) honesty (being truthful and doing what is sincere and right before God and others), discipline (rejecting wrong desires and doing what is right), generosity (it allows us to give to others because God has given abundantly to us. It is the wise use of stewardship and the attitude that all I have belongs to God and knowing we are the caretakers for His purpose), and last is patriotism (showing love and loyalty for our country).
Calapan City Zoological and Recreational Park
Calapan Recreational and Zoological Park is a three-hectare outdoor park resting on the hills of Calapan City. The park is cool and well-shaded with enormous trees, and is roughly divided into two areas. Upon entering the park, you'll see the recreational area. Cemented tables, chairs, and statues of animals are scattered in this section. This area can also serve as an outdoor venue for children's parties, picnics, and other events. Connected through a bridge, the second area is the spacious zoological park, where you will find caged animals such as parrots, eagles, pythons, ostriches, civet cats, and tigers. Other activities include wall climbing (P100/head), zipline (P150/head), horseback riding (P100/head), and rowing (P100/head). Without doing the paid activities, however, visitors are free to roam around the park. The trees found in the park include rain trees, gmelina, tibig, and narra.
Silonay Mangrove Conservation Area and Ecotourism
A 42-hectare protected area, Silonay Mangrove Conservation Area and Ecotourism is a haven of fireflies, migratory birds, various kind of fish, and of course, mangrove. Upon entering the area, travelers can leisurely walk deep into the mangrove forest through a 300-meter bamboo bridge. Found in the area are various types of mangrove such as the River Poison Tree, Asiatic Mangrove, Mangrove Apple, and Tall-Silted Mangrove. Best visited during high tide, this ecotourism zone offers kayaking (P50/hour, two seats), birdwatching (bring your own binoculars, November to March), and dolphin watching (April and May). Kayaking is the highlight of this destination. Aboard the colorful plastic kayaks, visitors would cruise through fishermen's trails, in between mangroves, and exit to Silonay River. During low tide, however, the mangrove forest reveals a muddy ground, where kayaking is not possible.
Calapan City Hall and Museum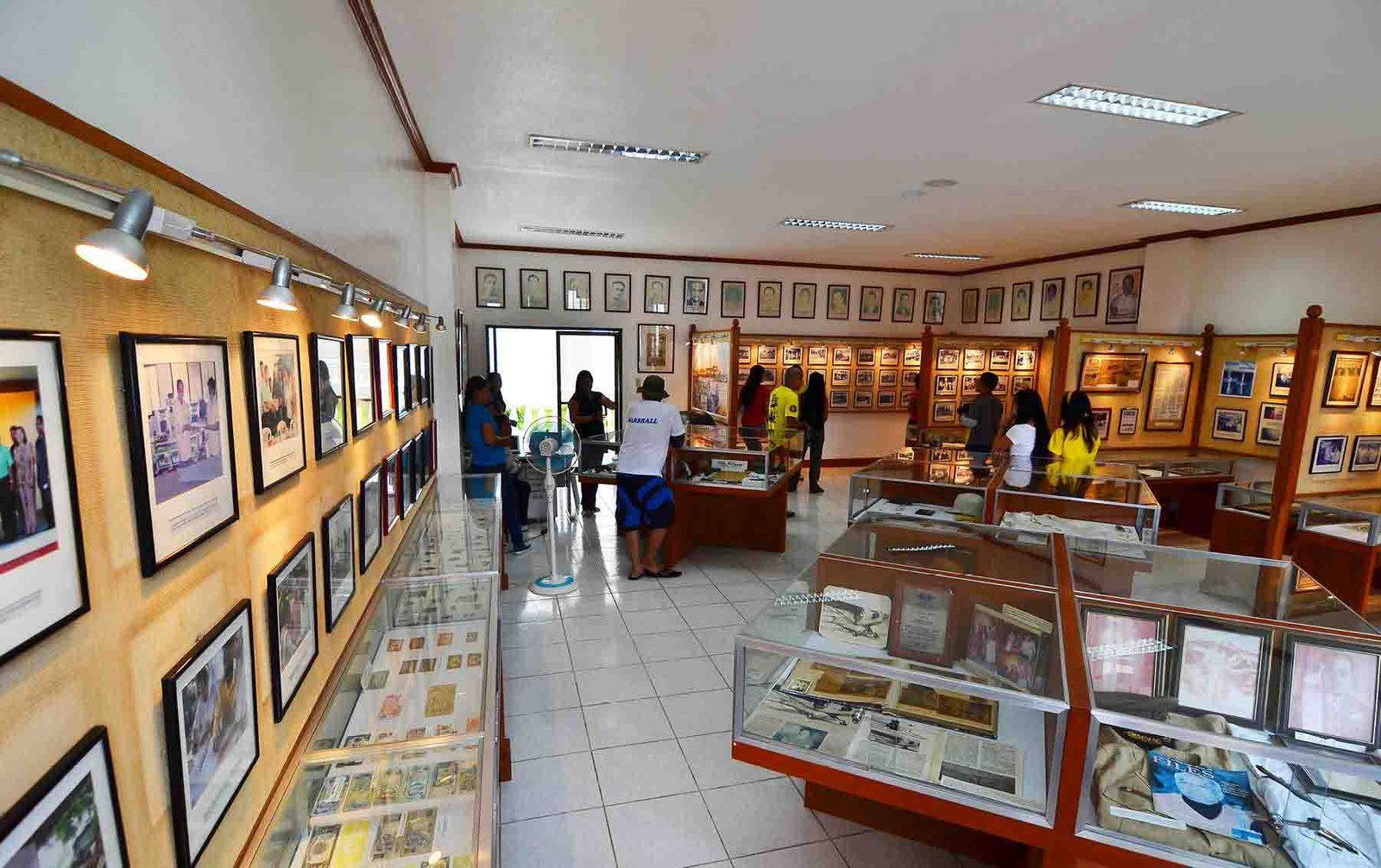 Located in the Calapan City Hall, the City Museum is a one-room museum divided into three sections. The Visuals of the Town section displays old photographs of the town's previous mayors since 1901. The Faces from the Past section exhibits various Philippine stamps and the memorabilia of historic figures in Calapan. Lastly, the Birth of a New City section displays old banknotes and coins from the American and Japanese occupation. Most notable in the museum is the remains of a tamaraw, the endemic dwarfed buffalo of Mindoro Island. The tamaraw's remains were ossified and turned into a statue, greeting visitors at the entrance.
Calapan City Plaza
Calapan City Plaza serves as a rotunda, in the middle of which lies a cemented gazebo. The gazebo is wrapped with a spiral staircase, leading to its rooftop. At the rooftop you'll find statues of a Mangyan next to a tamaraw, a dwarf buffalo endemic to Mindoro. The Mangyans are the indigenous people of Mindoro Island. Also found in this plaza are a relief sculpture of Mindoro and a monument of Dr. Jose Rizal, the National Hero. At the outskirts of the plaza, vendors sell refreshments and snacks. The plaza is located across Calapan's old City Hall, and next to the oldest Catholic educational institution in Mindoro, the Holy Infant Academy.
Planning a Trip
Pre-departure planning is important. Here are certain things you should watch for and plan for.
Visas
Check with the appropriate consulate or embassy in your country to find out if you will need a visa to visit the country of your destination, especially for an extended period of time. Some countries have extremely detailed and complicated entry/departure laws, and treat visits of a week or two very differently from longer stays.
Money
If you're traveling to one area, check the cost of living there. If it's high you'll probably want to budget more carefully and save some money before leaving. The lower the cost of living the less you'll have to save, but be sure to have a back up reserve in emergency cases.
General Tips
Talk to other people who have done a similar trip.
If you don't know anyone personally, try any of the dozens of online travel web sites full of first-person travel stories covering every possible type of trip.
Plan big and loose. Read everything you can about the area.
There may be sights and attractions you didn't know about. A rough outline of your trip might have three or four target points and a variety of ways to get between them.
You don't want to find out that the weather isn't what you thought, or the guide book was incorrect, after committing to 6 weeks in a specific spot.
Some trips will allow you more leeway than others. Travel plans in Asia can often be made day-by-day while summer travel in Europe should be organized at least a few weeks ahead, unless you're prepared to hunt around for hotel rooms and train seats.
Set up a pre-trip time-line so you don't end up with a full todo list your last week of work or school.
Things to consider are doctor's visits for a check up, inoculations, and prescription refills; purchasing plane tickets; renewing passports and obtaining visas and other documents.
Check your insurance coverage abroad and purchasing additional travel insurance if needed. Don't forget visiting friends and family members!
The longer the trip, the lighter you should pack. This might seem strange, but it's true you can afford to lug a heavy bag around for a week or two, but do you want to have anything extra for a year?
Stick to the absolute basics and know what you can and cannot buy at your destination(s). There's no point in bringing 6 months of toothpaste to Europe or buying a sarong at home to take to the tropics. If you are visiting several climates, try to arrange it so you visit the warmer places first and coldest last. That way you can purchase sweaters and long pants and not have to carry them any more than needed. Alternately, visit cold climates first and then ship unneeded layers home — or sell them off.
A good rule of thumb is to bring one outfit for the hottest day you're likely to encounter, one for an average day, and one for the coldest.
Make sure everything goes with everything else (if that's important to you), and remember that layers are always best.
Be prepared for uncomfortable trips. You will often find yourself in a busy, cramped, economy class environment and it could be for many hours – especially long plane trips.
If you want to arrive at your destination refreshed and able to enjoy the sights, then try a good quality travel pillow to support your head, some ear plugs to block out the screaming babies, and an eye cover to block out the sun or cabin lights.
Just avoid those cheap U-shaped pillows from airport shops – your head drops forward and you wake up with a stiff neck.
Make contact with the locals before you go.
Maybe you have a friend-of-a-friend or a foreign exchange student from high school you remember, or just found a friend through a travel web site; almost everyone is happy to welcome a foreign visitor to their home town. This might be as elaborate as a home-stay for a few weeks, or just coffee in their home town or dinner at a locals restaurant.
Kalap Festival
The festival commemorates the founding anniversary of the City of Calapan highlighted by street dancing and colorful float parade depicting the history of Calapan and the origin of its name from which the festival derived its name. A merry mixture of socio-civic, cultural, historical and sports activities are part of the run of events.
source: http://www.wowmindoro.com/features/events/festival-and-events-in-calapan-city/
Sto. Nino de Calapan Festival
For religious tourism, the city holds the Sto. Nino de Calapan Festival at the start of every year, January 1. It is a month-long celebration starting as early as December until it reaches its pinnacle through a series of different religious activities to honor the city's patron, the young child Sto. Nino and to reflect the people's religiosity. The celebration extends towards the Christmas season laced with nightly cultural presentation, yuletide activities topped by the lighting of the giant Christmas tree and fireworks, as well as agro-industrial and tourism fairs.
Sinkaw Festival
From "sining-kalabaw", a creative artistic painting competition with no less than the carabaos as "canvasses". This festival honors our native "beasts of the burden" as an eternally indespensible partner in farming and, essentially, a tribute to the indusrriousness of our farmers.
Travel Resources
Travel planning is about more than just knowing where you're going. Prepares to navigate, take control and be ready for anything. This section helps you steer clear of disaster and stay open enjoy the unexpected.
Quick Tips
Banks– Open Monday to Friday 9am to 2pm. Some banks are closed for lunch.
Emergencies– For police, dial a local phone number; for ambulance call a hospital.
Internet Access– Wifi is standard in most hotels and free in many coffee shops.
Mail– Buy stamps at the Post Office. Convenient post offices are located all cities. Most are open Monday to Friday 9am to 3pm.
Safety– Pickpocketing can be a common problem. It is suggested for men to keep wallets in their front pocket. Purse snatching also occurs at times.
Transportation
Getting in from the airport and other arrival locations. Travel planning is about more than just knowing where you're going. Prepares to navigate, take control and be ready for anything. This section helps you steer clear of disaster and stay open enjoy the unexpected.
Plane– Flights arrive at the main airport near city center. If flying from European cities, you might land at a connecting airport. There is a tourist information office at the Terminal E, international arrivals, open 8am to 6pm.
Train– A train station is on the lower level of the airport. To get into the city, follow the marked signs.
Taxi– From the airport there is a flat-rate for the 1-hour trip, depending on traffic. Hotels charge up to $80 for shuttle service.
Train & Bus– Trains and buses arrive a city center. This is the transportation hub for the city and is surrounded hotels.
A perfect place for exploring on foot, with local shops around every corner. You will eventually walk somewhere, it's just going to happen. If you don't like crowds, uneven cobblestones, heavy traffic or narrow sidewalks, take a taxi or rent a scooter.